Our Mission
Leveraging more than 60 years of technical and engineering expertise, H&C Tool Supply partners with manufacturers to help them improve productivity, see greater cost savings, and drive efficiency in their everyday operations.
Our Story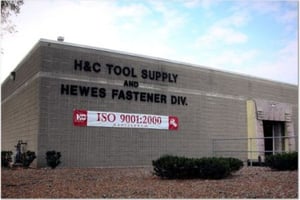 Since 1955, we have been the trusted tool supply partner for Rochester, NY, as well as the Western New York region and beyond. Our goal at H&C Tool Supply is to be an invaluable partner to our customers. We work to develop long-term partnerships with our customers and suppliers that are mutually beneficial. Every day, we strive to improve our knowledge, empower our team members, provide innovative products and solutions, and offer the best service.
Our knowledgeable staff is dedicated to bringing customers the best products and services for their CNC tooling and industrial fastener applications. In addition, our Hewes Fastener Division stocks more than 19,000 unique specialty and standard fasteners and takes pride in our speedy 30-minute order-to-pickup service.
Our People
The people of H&C Tool Supply have the depth of CNC tooling expertise, engineering experience, and product and application knowledge to find the best solution, source the right tools and supplies, and deliver outstanding results for our customers.
We are proud to be a 100% employee-owned company (ESOP). That means every day, in every department, our customers are connecting with a company owner who truly cares about the success of their business, and our customers see that dedicated difference.
Becoming an ESOP company has presented us with new ideas, innovations, and collaborations with our customers. We provide the optimal mix of products, processes, services, and experiences that help drive down our customers' costs and increase their profitability.
Standard Terms & Conditions of Purchase
Our Customers
With our long history in the Rochester area, we know that our tool expertise makes a difference for other area businesses and their customers. We value our clients and the successes they have seen with the help of H&C Tool Supply.